At InjuryLawyers4U, we know that, like many services, the best solicitor for your specific case isn't necessarily the one that's on your doorstep. 
Can I speak to a local solicitor?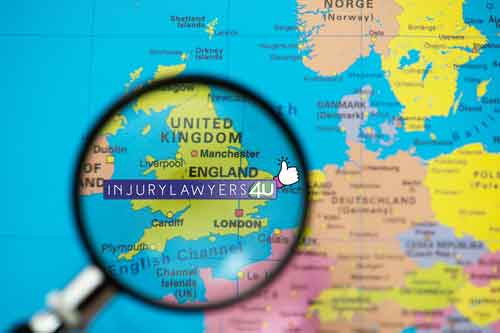 Choosing a local law firm may seem convenient, but 'local' doesn't necessarily mean 'best'.  At InjuryLawyers4U, we believe everyone should be able to access the best legal advice for their case, wherever they are. What you really need when claiming for an injury is a specialist. Someone who is an expert in personal injury law with plenty of experience in similar cases. We have a network of brilliant solicitors, throughout England and Wales, that are ready to assist you in your claim.
At InjuryLawyers4U, our process can be handled remotely if you wish, with experienced personal injury lawyers. No matter the distance, our solicitors are ready to fight for your compensation. We want your claim to be a success, and we want to help you recover and regain normality after your accident.
The best legal support in the country
We operate on a No Win No Fee basis, which means that, as long as you abide with our agreement, you only pay legal fees if your claim is successful. Therefore, it's always of mutual interest and importance that we connect you to one of our specialist expert lawyers, to increase your chance of securing personal injury compensation.
Recovering from an injury is stressful but especially when it's the result of an accident that wasn't your fault. The accident itself can often be a traumatic experience, and you want to return to normality as soon as possible without any added stress from legal proceedings. That's why our expert lawyers can take care of your case remotely.
Wherever you're located, your solicitor will reach out by phone and video meetings to update you on the progress of your claim. No last-minute visits or demanding face-to-face meetings. Our process gives us the ability to bring you the best legal advice possible, not the most local.
Can the process be handled remotely?
Yes. When you choose InjuryLawyers4U to handle your personal injury claim, you'll never need to go and visit your appointed solicitor in person. The process can be handled entirely over the phone, with conference calls over Zoom and via email if you wish. Your solicitor will only contact you at times that are most convenient to you.
Where a local solicitor firm may request meetings and consultations in person, we understand this can be quite taxing, especially when recovering from a significant injury. We make the process as convenient and stress-free as possible, so you can stay focused on your recovery. Of course, if you wish to see your solicitor face to face, we at InjuryLawyers4U are able to facilitate this.
You will need to visit a specialist medical professional who will assess your injuries and the treatment required, however, InjuryLawyers4U can assist with this too. We'll connect you with a medical professional in your area, so from the start of your claim right through to its conclusion, you'll never need to travel too far.
Our services are available throughout England and Wales. So, no matter where you live, we can guarantee your claim will be handled by the most qualified professionals.
Get an expert solicitor on the case
The moment you get in touch with InjuryLawyers4U to inform us of your injury and inquire about our services, we can give you professional, honest advice about the strength of your claim and the likelihood of receiving compensation. All without any obligation. Should you wish to go ahead and pursue a personal injury claim, we'll put you in touch with an experienced lawyer that's ready to assist you in making your claim successful. 
Contact InjuryLawyers4U today by calling 0800 221 8888, filling in an Enquiry Form online, or using our handy Live Chat online to speak to an advisor right away. We're ready to help.