Without proper training, equipment or health and safety protocol in place, forklifts can quickly become a dangerous piece of equipment for those who work with or near them.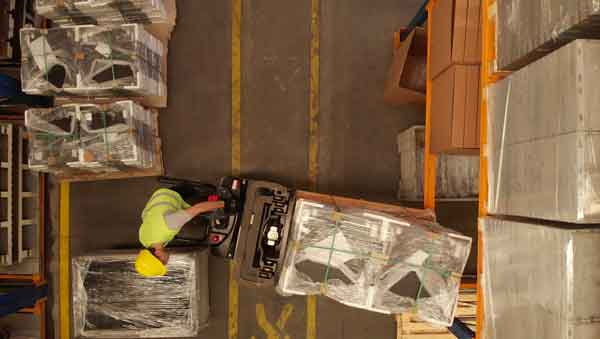 Warehouse employees are a vital part of the workforce across a host of sectors including retail, construction, and agriculture. The nature of this work means that health and safety in a warehouse environment should be paramount in order to protect workers. However, accidents in warehouses are more common than you'd likely think, with around 1 in 20 UK warehouse employees suffering an injury each year.
Despite the fact warehouses are fraught with potential hazards, it's the responsibility of employers and warehouse owners to protect employees from these dangers as much as possible. This could include clear signposting of slippery floors, the provision of functional safety equipment or adequate training for safe manual lifting. If you think your employer hasn't done their best to make your work environment a safer place and you've suffered an injury as a result, you may be entitled to claim compensation.
Warehouse Injuries Explained
All manner of accidents can take place in a warehouse, often causing injuries that range in severity from minor to extremely severe or even fatal. The most common types of injury that warehouse workers endure include:
These are just some of the injury types that are common in a warehouse environment, and are the result of a variety of accident scenarios. The most common accidents that occur in warehouses are:
Injuries from falling objects
Manual handling
Of course, there are many other scenarios that take place in a warehouse where accidents are likely to occur. However, Slips, trips and falls are by far the most common type of accident to happen in the workplace. The Health and Safety Executive (HSE) reported that in 2022, this type of accident was responsible for 30% of all non-fatal injuries that impacted employees in the workplace. This was followed by handing, lifting and carrying at 18%.
Regardless of the specific type of injury you've sustained, if it's the result of your employer's negligence or lack of care, you could be able to pursue a claim.
How do I claim for a warehouse injury?
If you've been involved in an accident while working in a warehouse and have sustained an injury, the first thing to do is report the accident to your employer and seek treatment for your injury. Most workplaces have an accident book where employers are obligated to log incidents whenever they're reported, so it's important that your employer knows what has happened and that there is an official record.
The next thing to do is gather evidence of the accident to help strengthen your case. This may be CCTV footage that can be obtained on request, a copy of the report logged in the accident book, details of any colleagues who witnessed the accident so that statements can be taken, and medical reports that reflect your injury and the treatment you've received.
Once you've done this, get in touch with InjuryLawyers4U. We'll put you in contact with an experienced personal injury solicitor who'll listen to your case and let you know right away if they think you have grounds to claim compensation. If you do have a strong case, they'll take you through each step of the personal injury claim process and assist in preparing your case for court.
Can I make a claim for a warehouse accident?
Put simply, if you've suffered an injury at your workplace and you believe your employer is responsible, if it can be proven, you could be eligible for compensation. It's a legal obligation for employers to implement health and safety protocols to protect you and your colleagues. This includes:
Providing training for all necessary equipment
Training for manual handling
Providing PPE (personal protective equipment)
Maintaining equipment to ensure maximum safety
Carrying out risk assessments for all warehouse work activity
Repairing or minimising all reported dangers in the warehouse
If you have been injured in a warehouse and you feel the accident could've been avoided if your employer fulfilled their duty of care, InjuryLawyers4U can help you open a claim.
Is there a time limit to begin a claim for a warehouse injury?
With all personal injuries, you have three years from the time of the accident to open a claim for compensation. That's why it's important to seek treatment, gather evidence and speak to a personal injury solicitor as soon as possible.
Injured while working in a warehouse? Get in touch
Living with the consequences of an accident at work is tough. The accident itself can be a traumatic experience, the injury can be severely painful and impact lifestyle, and is often followed by months of ongoing treatment and rehabilitation before the injured person can return to work and 'normal life'. This often means a significant loss of earnings while trying to get life back on track. 
If you've been injured in a warehouse accident and wish to pursue a claim, don't hesitate. Contact InjuryLawyers4U by calling 0800 221 8888 or filling in an Enquiry Form online. Our expert solicitors are ready to fight your case, and will give you professional, personal advice to help secure compensation on a no win no fee basis.