Without proper training, equipment or health and safety protocol in place, forklifts can quickly become a dangerous piece of equipment for those who work with or near them.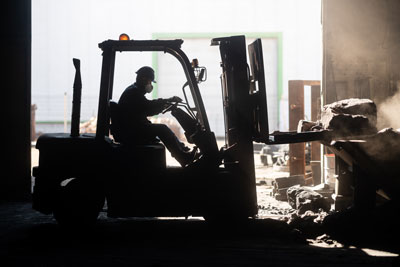 Forklift injury claims are relatively common in industrial workplaces and often expose health and safety issues that have not been assessed or prepared for.
According to the National Safety Council (NSC), accidents involving forklifts account for approximately 80 work-related deaths and over 7,200 non-fatal injuries each year.
If you've been involved in an accident involving a forklift then there's a good chance that the vehicle hasn't been loaded, maintained or driven according to standard regulations.
It's worth getting in touch with an injury claims specialist to determine whether you are eligible to receive compensation to support your recovery.
What are the most common situations that lead to a forklift accident claim?
Many forklift accidents are preventable, especially when the driver has not been properly trained or the vehicle has not been assessed for issues on a regular basis. Here are some of the most common scenarios in which people claim for compensation:
Forklift loads falling or tipping onto people
Dangerous driving and collisions
People crushed between the forklift and another object
Faulty vehicles and problems with turning
Failure to properly store or maintain the vehicle
How much compensation will you receive for a forklift injury claim?
The amount of compensation following a forklift accident depends on the circumstances which led to the incident and the severity of the injury sustained. If you've suffered a major injury then it's likely your ability to work and standard of living has been affected.
An expert claims solicitor will also take into account the costs of any medical care and expenses, and ensure you can progress with rehabilitation without worrying about finances. Remember that in most cases you must submit a personal injury claim within three years of the incident to stand the best chance of a successful outcome.
Next steps
Get in touch to arrange a free consultation with one of our friendly injury claims specialists. We offer a comprehensive assessment of your situation and can put you in touch with the support and guidance you need to ensure the best chance of success.
InjuryLawyers4U has handled hundreds of successful forklift injury claims and we have a proven track record in winning large settlements for our clients. You can reach us directly on 0800 221 8888 or, if you'd prefer, please fill in the contact form to arrange a call back at a time that suits you.