Industrial environments are fraught with health and safety risks, so it comes as no surprise that thousands of employees file work accident claims following an injury sustained at work.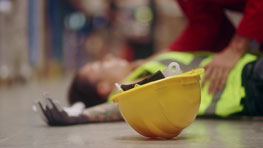 These types of injuries can be severe in nature and may have a long-term impact on your standard of living and ability to work. The full impact of your injury must be accounted for and evidenced when compiling a claim to ensure you receive the best possible outcome and maximum compensation.
As one of the leading personal injury claims specialists in the UK, the team at InjuryLawyers4U is here to talk through your claim and help you regain peace of mind following an industrial injury. Rest assured we've been there many times before and have helped thousands of people in the same position as you.
For which types of injury can I make a claim?
Injuries can occur in many different situations within an industrial workplace. Here's a short list of the most common injuries sustained by our clients:
Electric Shocks
Burns
Slips, trips and falls
Damage to or loss of limbs
Injuries caused by machines
You may have also suffered short or long-term health conditions as a result of being exposed to a certain environment without adequate protection or training, including:
Loss of hearing due to noisy environment
Loss of vision
Loss of motor control
Musculoskeletal problems
Next steps
If you've suffered an injury at work then it's important to act quickly to verify whether your claim is valid and gather sufficient evidence to support it. Please note that injury claims must be made within a certain timeframe to stand the best chance of success, generally within three years of the incident.
Get in touch with our friendly personal injury claims team for a free, no-obligation consultation. You can reach us directly on 0800 221 8888 or, if you'd prefer, please feel free to fill in the contact form to arrange a call back at a time that suits you.